Mass protests in Armenia as killings test loyalty to Moscow
Thousands have demonstrated against Kremlin influence after a Russian soldier was accused of killing a family of six . RFE/RL reports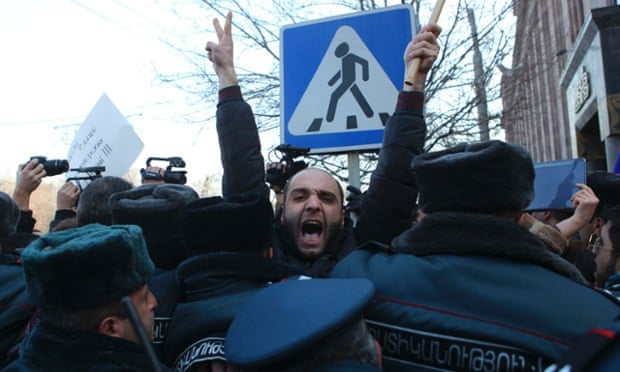 Daisy Sindelar for RFE/RL, part of the New East network
Thousands turned out on the streets of the Armenian city of Gyumri today to pay their respects to six family members brutally murdered in their home earlier this week, a case that is testing relations for Russia and its closest ally in the region.
The youngest victim, two year-old Hasmik Avetisian, lay in a tiny coffin, her arm wrapped around a doll, at St Nshan Church in Gyumri, around 120km north of the capital Yerevan.
Described by neighbours as quiet and hard-working, the Avetisians – two grandparents, their son and daughter, a daughter-in-law, and young Hamsik – were shot dead on 12 January.
A six-month-old boy, Seryozha – in critical condition after suffering stab wounds – is the only survivor.
The crime has proved especially horrifying for the South Caucasus nation because the suspect is not Armenian but Russian – a soldier serving at Moscow's 102nd military base in Gyumri.
The soldier, Valery Permyakov, is said to have confessed to the crime after being apprehended by Russian border guards as he was reportedly attempting to cross into Turkey. Hours earlier, he had apparently walked off the base undetected, carrying an automatic rifle and ammunition.
The motive for the crime is uncertain. There is a suggestion that the young conscript from Siberia, who had served at the base for only two months, may have had mental health problems.
No alarm was raised at the base – no one cared why this soldier was roaming the streets with a Kalashnikov
His suspected involvement has set off a storm of protests aimed at the Kremlin's lingering dominance over its poor southern neighbour, which has continued to host Russian soldiers long after other neighbours successfully shed their military bases.
Arman Suleymanian, an Armenian journalist speaking to Russia's Dozhd TV, expressed amazement at reports that the soldier had abandoned the base in the middle of the night, heavily armed, without attracting attention.
"No alarm was raised at the base – no one cared why this soldier was roaming the streets with a Kalashnikov," Suleymanian said. "Then this murder takes place, and Armenian officials react by saying that he had asked for a glass a water and been refused, and that's why he shot everyone. It's just one stupid statement after another."
Large crowds of protesters gathered outside the Gyumri base, where Permyakov is now being held, demanding that he be handed over to Armenian law-enforcement to ensure he is prosecuted locally.
Russian and Armenian officials, who claim to be cooperating on an investigation, so far have offered mixed messages on who holds the right to take the soldier to trial.
A day after the murder, Armenia's prosecutor-general's office indicated Permyakov would not been handed over to Yerevan, noting that the Russian constitution prohibits the extradition of Russian citizens to foreign states.
But Armenian activists say the fact that Permyakov was taken into Russian custody violates the terms of a 1997 bilateral treaty stipulating that Russian military personnel who commit crimes outside the Gyumri base fall under Armenian jurisdiction.
The same treaty says Russia maintains jurisdiction over crimes, like desertion, committed on-base – meaning Russia has a legal basis for arguing that it should handle the prosecution.
I don't know exactly to what extent the Armenian public trusts these governmental bodies to do things in an unbiased fashion and not listen to their Russian counterparts
Gevork Kostanian, Armenia's prosecutor-general told demonstrators in Gyumri that he would raise the issue of Yerevan prosecuting Permyakov with Russian authorities.
Nevertheless, the events have left many Armenians alarmed. Armenia in 2013 rebuffed a long-anticipated Association Agreement with the EU in favor of joining the Moscow-led Customs Union, a deal that many saw as bearing the trace of Kremlin coercion.
Angela Hassassian, a teacher and PR consultant, says protesters in Gyumri and Yerevan believe Armenian officials, wary of offending Russia, have been soft on the issue. She adds that many protesters are skeptical Permyakov will receive a fair trial even if he is handed to an Armenian court.
"I don't know exactly to what extent the Armenian public trusts these governmental bodies to do things in an unbiased fashion and not listen to their Russian counterparts," Hassassian says.
"A lot of people are afraid that regardless of whether the case going to be tried in Armenia in Russia, either way the results will be essentially the same."
Gyumri residents are seen as largely tolerant of the Russian base, which has provided steady employment for a number of locals. But the Avetisian murders have evoked unpleasant memories of past violence tied to the 102nd.
In 1999, two intoxicated Russian officers opened fire at the city's market, killing two and wounding dozens of others. In 2013, two boys were killed by explosive devices left by Russian soldiers on the base's firing ground.
Mikael Ajapahyan, the head of a local diocese of the Armenian Apostolic Church, has called for calm in Gyumri but said people must get "clear answers" on the murders, adding: "I cannot calm them down for life."
The killings come at an awkward time for Russia, which recently announced that it was welcoming foreign contract soldiers into its ranks, in part to boost the number of natives serving at its remaining bases in Armenia, Belarus, Tajikistan, and Kyrgyzstan. (Russia has withdrawn bases from Uzbekistan, Azerbaijan, and Georgia.)
The centuries-old friendship between the Armenian and Russian peoples has withstood a number of trials over time… Now is the time of another test
Russian Defense Minister Sergei Shoigu condemned the crime and quickly dispatched his deputy, General Arkady Bakhin, to head a special investigative commission. Authorities at the base, meanwhile, have vowed a vigorous and collaborative probe.
In a televised statement, the base's deputy commander, Aleksei Polyukhovich, offered assurances that Permyakov, if guilty, "will get the most severe punishment" possible. People capable of such crimes "have no nationality," he added, stressing historic ties between the two countries.
"The centuries-old friendship between the Armenian and Russian peoples has withstood a number of trials over time – both in times of Turkish wars and natural disasters," Polyukhovich said. "Now is the time of another test."